MEET THE TEAM
Co-opted Board Member Mia Forbes Pirie
This series introduces members of the CMC Team – get to know the Directors and staff to learn about their experience in mediation and plans for the organisation.
Co-opted Board Member Mia Forbes Pirie introduces herself, speaks about her motivation to become a mediator and why she is excited about the future of the CMC.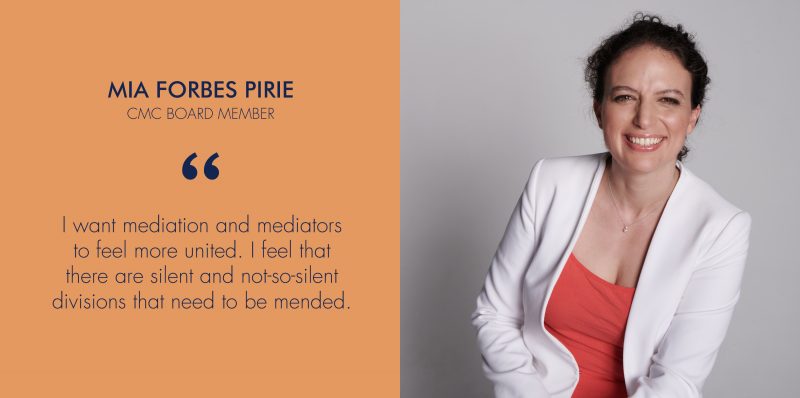 Who are you and what is your experience in mediation?
I have always had a passion for resolving conflict and improving human relationships. It started when I was a little girl because I have a mother who has a wonderful and difficult personality. During my Masters in law, when I was 22, I was introduced to negotiation and was hooked. I devoured books on the subject. When I left my job as a City solicitor, I wanted to become a mediator but I delayed because I was told that you needed to be male and middle aged to be a commercial mediator. I pursued a career in science and policy-making but the pull of mediation was too strong so I returned. I am grateful to my first mediation teacher who told me I had a gift and it would be an incredible waste if I didn't use it. We all need support and encouragement.
I have quite a broad experience of mediation and mediation training.  I mediate commercial disputes, workplace disputes, community disputes and intergenerational disputes (I was roped into the latter by Wandsworth Mediation Services where I volunteer and find it both deeply challenging and rewarding). I also facilitate conversations on challenging topics and my clients have included the G7 and the Church of England. I spent a while taking politicians around refugee camps and helping them discuss solutions to the refugee situation. I have trained in different types of mediation and also train people on how to mediate online, and how to facilitate.
What do you want to change in the world of mediation? Or in society in general?
I want mediation and mediators to feel more united. I feel that there are silent and not-so-silent divisions that need to be mended. I also want to help people find mediation more relatable and for mediation to become even more of a mainstream solution. 
I am currently writing a book about how to have the challenging conversations of our times.  I want people to understand that these are skills that can be learnt and I hope that that will also help them get a flavour of mediation and feel more connected to it. I want people to feel more able to have difficult conversations and to genuinely listen to each other.
Diversity is also important to me which is why I started a series interviewing successful women in mediation. I hope to take it further and our new Deputy Chair Rebecca Clark is next on my list.
You've just joined the board. What was your motivation to take on that responsibility?
I care deeply about mediation and I think I have some useful and different perspectives on it. I want to be of service where I can in an area that's so important to me and to be part of making some of the changes we've just talked about. I also like and trust the people I have come across on the board.
It's important to me to work with people whom I like and respect. The CMC's strategy and the way it has been rolled out so far makes a lot of sense to me. I'm impressed by it and by the team.
From what I have seen my fellow board members make excellent decisions. I think the previous Deputy Chair and the CEO did a great job of putting the building blocks in place and Rebecca, the new Deputy Chair, is a fantastic choice to take that forward. I feel privileged to be part of such a good, well-organised team, with such dedicated and capable professionals and volunteers. I feel I have a lot to learn and a hopefully quite a bit to offer too.
This series introduces members of the CMC Team – get to know the Directors and staff to learn about their experience in mediation and plans for the organisation.