MEET THE TEAM
Deputy Chair Rebecca Clark
The CMC's newly appointed Deputy Chair Rebecca Clark introduces herself, gives an insight into why she applied for the role and what her priorities will be in her work for the CMC.
This series introduces members of the CMC Team – get to know the Directors and staff to learn about their experience in mediation and plans for the organisation.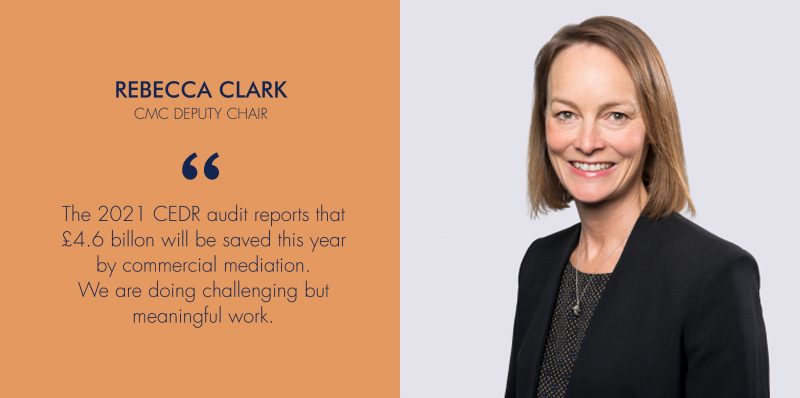 Why did you volunteer for this role?
I not a fan of the word "passionate", but it is hard to find a suitable alternative sometimes. The definition in my dictionary is "extremely enthusiastic" but I guess you could also use "fervent", "excited" and "vehement".  I am all of those things about mediation, both as a process and as a career. It's against that background that I volunteered and put myself through the rigorous interview process to become Deputy Chair. I am proud to be a mediator and I am proud of our profession (yes, I do think it qualifies as a profession) and of the work that we all do, whether in the commercial, family, community, workplace or restorative fields. The 2021 CEDR audit reports that £4.6 billon will be saved this year by commercial mediation. We are doing challenging but meaningful work.
Awareness of mediation is slowly building, albeit perhaps not as quickly as many of us would like. Less often am I met with blank stares these days when I explain what it is that I do. But could we finally be at a tipping point where mediation launches into the mainstream? The overwhelming of the courts during the pandemic and the number of disputes that will unfortunately arise as businesses and individuals regroup after the last year, might encourage this. Necessary and important conversations are taking place about dropping the "alternative" moniker. Mediation is mainstream, integrated and empowering dispute resolution. What an exciting time to be part of the Civil Mediation Council and to play a part in the progression of something that I am (ok) passionate about.
You've been Deputy Chair for less than a month. How do you plan to approach the role?
I think the most important thing in any new position is to take the time to observe, learn and ask lots of questions. What has become apparent to me since applying for this role is that the CMC is doing far more than I had realised, and the vast majority of this is being done on a voluntary basis (as is my role, of course).  If I, as a member, was unaware of this then I suspect many others are. So, we need to make sure that we tell you, the members, what we are doing. A considerable amount of work is being done, for example, in lobbying the MOJ and government promoting the use of mediation in the courts and more widely – this was quite properly identified as a suggested priority for the CMC in CEDR's 2021 Mediation Audit, but is already being very actively pursued.
I also want to explore some very well debated issues which remain unresolved, and in remaining so, potentially impact on our professionalism. Again, these were identified as potential priorities in CEDR's Audit. Concerns such as the quality and consistency of training, the lack of formal training and career development post-course, and the difficulties new mediators have in breaking into the mediation market, need to be debated and resolved. These issues effect the ability of new mediators to access and thrive in the market, which then impacts on diversity, whether that relates to age, sex and/or race. Another issue: how do we address the gap in provision of mediation identified in the CJC ADR Report 2018 for those cases that fall between the net of community mediation, small claims mediation and full-scale commercial mediation? There are no easy answers, but we have to try.
Most importantly, I want to focus on what you, the CMC members, want me to focus on. What are your priorities? What do you think works well? Do you have any suggestions for change or improvements? Do you want to offer your services as a volunteer at the CMC, perhaps on one of its specialist committees? I am listening and I appreciate your input, your assistance and your challenge. I look forward to hearing from you: deputychair@civilmediation.org
Who is Rebecca?
Rebecca Clark is the newly appointed volunteer Deputy Chair at the CMC. Based in Yorkshire, Rebecca is a full-time mediator with IPOS Mediation, specialising in commercial dispute resolution. Prior to becoming a mediator, Rebecca was Head of Litigation at the Government organisation set up to manage two former bad banks. Her novel approach to management and mediation in that role lead her to being awarded Legal Week's Legal Counsel of the Year in 2013. In a break from law, Rebecca has also set up, managed and sold her own retail business winning the Draper's Award for best Childrenswear Retailer in 2009. She has also worked as a solicitor advocate in private practice and is a qualified Restorative Justice practitioner.
This series introduces members of the CMC Team – get to know the Directors and staff to learn about their experience in mediation and plans for the organisation.