The CMC Sets Up Three Working Groups
The CMC Sets Up Three Working Groups
The charitable objects of the Civil Mediation Council are; 'to be a neutral and independent body set up for the benefit of the public to promote the resolution of conflicts and disputes by encouraging the use of mediation and other dispute resolution'.
In support of its objectives the CMC has recently set up three new working groups to support a broad range of mediation activities. The agenda for each group will be determined by its members on a meeting-by-meeting basis and some initial information is shared below.
Ready to Join One of the Working Groups?
Peer Mediation Working Group
A Peer Mediation Working Group meeting will take place on 28 February at 1pm. Chaired by Ellis Brooks, the group will look at a number of issues to include mapping of Peer Mediation services and how to increase peer mediation delivery in schools and within youth groups. Learn more about Peer Mediation on the CMC website.
Community Mediation Working Group
Chaired by Mia Forbes Pirie, the Community Mediation Working Group will provide a platform for mediators in the community to support one another, promoting organisational resilience as well as looking at the potential to collaborate upon research projects. The set up of this group aims to increase the profile of this sector which does so much to support the health, happiness and wellbeing of communities as well as preventing cases from entering both the civil and criminal justice systems. This meeting will take place on the 7 March at 2pm. To learn more about the benefits of Community Mediation listen to a recent CMC podcast episode with Mia Forbes Pirie and Stephen Ruttle KC.
Academic Forum
A new Academic Forum will launch on the 9 March at 1pm.  Chaired by Dr Jane Bryan, the group will have the opportunity to share information about how mediation has been incorporated in to the curriculum in different institutions as well as discussing research initiatives. The CMC is keen to provide support for research into mediation and through its broader membership it has the ability to connect academics with mediators in practice.
"I am delighted to be working with the CMC and chairing its Academic Forum to bring together mediators and educators to promote the integration of mediation training and services in Higher Education Institutions." said Chair Dr Jane Bryan. "By gathering and sharing data and examples of best practice, the Academic Forum seeks to demonstrate the value of mediation and its place within education as well as the benefit to students who will take forward their experience of mediation into their future workplaces and communities."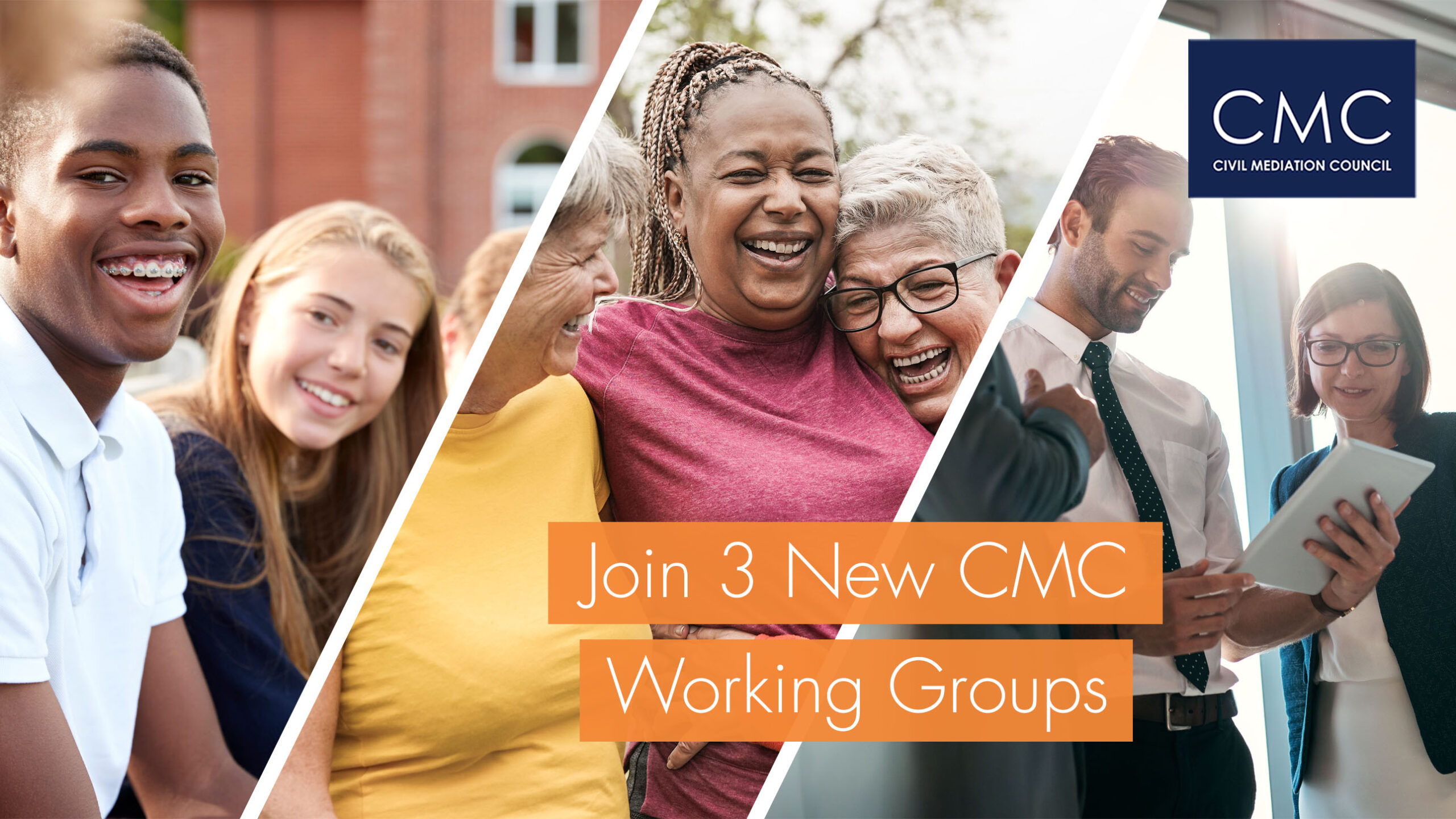 When Are the First Meetings?
Peer Mediation Working Group
Chaired by Ellis Brooks
28 February, 1 pm
Community Mediation Working Group
Chaired by Mia Forbes Pirie
7 March, 2 pm
Academic Forum
Chaired by Dr Jane Bryan
9 March, 1 pm
If you would like to be involved or to find out more, please contact Victoria Harris at projects@civilmediation.org