CMC Workplace Mediation Surgery
CMC Workplace Mediation Surgery
The CMC Workplace Group hosted a free Mediation Surgery with a panel of experienced workplace and employment mediators who will answer your questions. The event was a great opportunity for all mediators, mediation providers, employment lawyers, managers, trade union reps and HR professionals – anyone interested in the field of conflict resolution.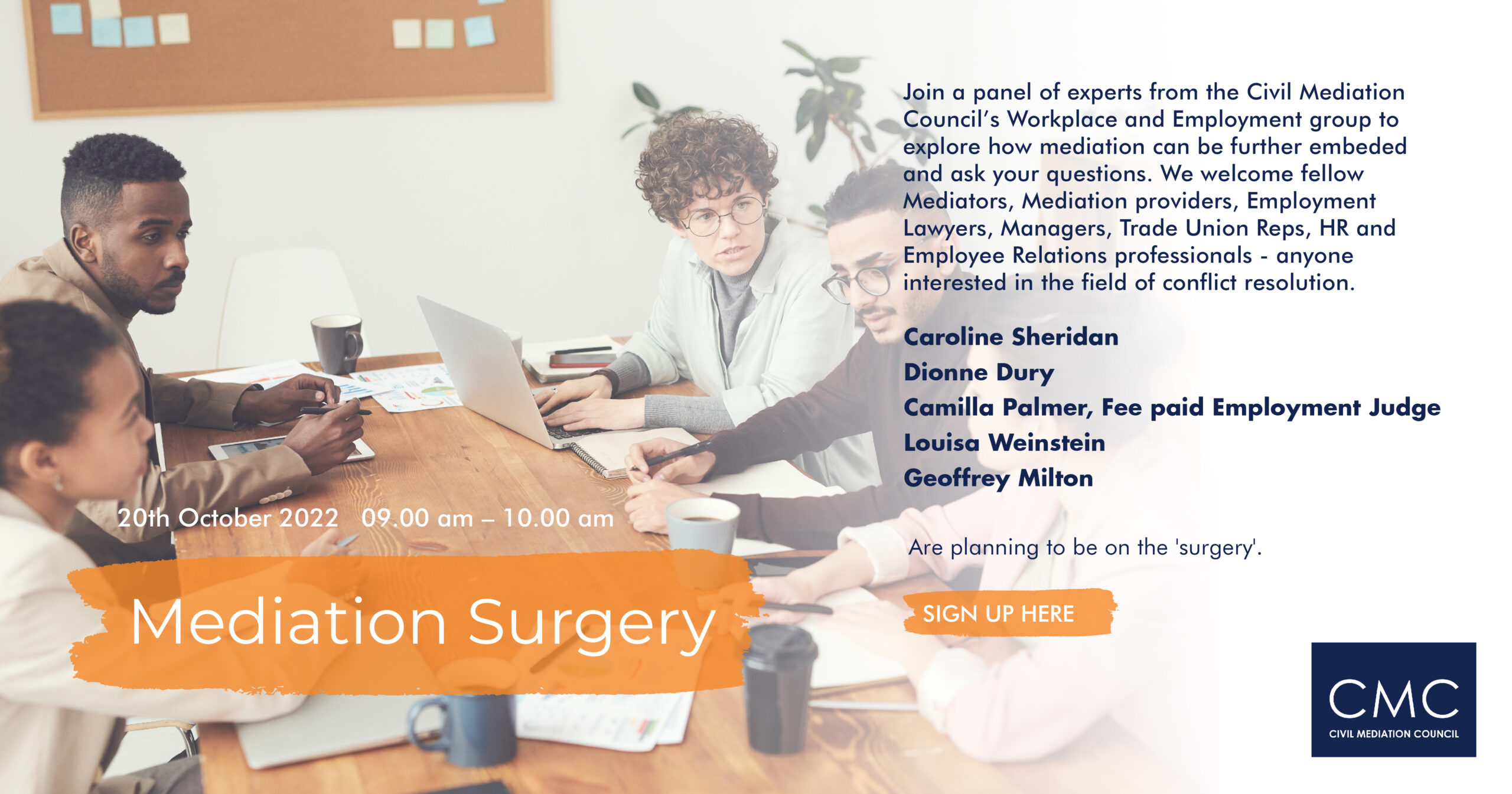 Many thanks to all those who attended our inaugural mediation surgery on 20 October. This was an opportunity for mediators and non-mediators to kick around practical, legal and theoretical mediation-related issues in a safe Chatham Rules space. Very much "available for comment" on behalf of the CMC were mediators, employment lawyers, Acas and in-house practitioners, so it is maybe not surprising that the debate was both informed and lively.
We touched on a range of participant questions, with two in particular standing out – the extent of a mediator's right or duty to follow up with the parties in the days or weeks following the mediation, and how far it is appropriate for an employer to use or even offer mediation where unlawful discrimination or harassment is already established, as opposed to merely alleged. Opinions and practices on both questions clearly differed among the speakers and participants, leading to the conclusion in both cases that there are not necessarily any absolutely right or wrong answers, but merely what is agreed between the parties to the mediation and, where appropriate, its workplace sponsor.
Follow-up can be an effective part of the settlement process where the parties were oh-so-close but simply ran out of time or energy or will on the day. Contact can remind them how near they were and encourage a resumption of discussions, whether or not via the mediator. Good practice might well be to ensure that the sponsoring employer is also happy with that, both when contracting at the outset and again in the light of the outcome reached. It was generally accepted that some employers may take the view that having made their bed in any agreement reached at the mediation, it was now up to the employees to lie on it without further external help.
Equally there is nothing in the fact of conduct towards an employee being accepted as unlawful which was thought to mean that the victim cannot choose, initially at least, to pursue a resolution through mediation rather than formal proceedings. That is particularly as the range of outcomes possible from a mediation is far wider than the essentially cash-only remedies available through the employment tribunal.
The feedback from the session was very positive and so the CMC is now considering hosting the forum on a regular basis, perhaps every two months, on topic suggested by its members. Invitations to the next one will follow soon. Please do pass them on to interested friends or colleagues. We look forward to seeing you at the next one!